Snowvolution: The Revolutionary Snow Powder Making Machine.
Industrial Frigo Ice USA has developed a unique line of refrigerating equipment that makes real snow! GET REAL SNOW ANY TIME, ANY PLACE!
Snowvolution is a customized system that makes and spreads real snow in any indoor or outdoor event space. Operating is simple. Snowvolution can be operated with a web portal or integrated into your existing automation.
This flexible and modular real snow making machine is perfect for temporary, mobile, or permanent use.
Snowvolution Snow Machines at work
Enjoy the Real Snow with Industrial Frigo's Snowvolution
Snowvolution Snow Playground
The snowvolution snow playground is a safe and clean space simulating an Alps mountain scenario, where kids can safely enjoy playing with snow.
We transform the classic summer beach experience of playing in the sand to snow, creating a play place for unforgettable moments for the entire family.
The snowfall comes out of the snow machine and remains on the ground where it melts due to ambient temperatures. We make real snow and never used crushed ice. Industrial Frigo Ice USA offers a truly unique event experience.
Installation is fast and easy because all it needs is electrical power and water supply to work in any indoor or outdoor setting.
A snow playground is a perfect complement to any ice skating rink. Industrial Frigo Ice USA will design and develop structures in any shape or size to integrate with your existing or future events.
Snowvolution is available as a stand-alone unit or as a modular system with the snow pumped into strategic areas of the snow playground.
Snowvolution Ski Slope Indoor or Outdoor
The Snowvolution Ski Slope is a gentle downhill experience perfect for a practice range or stand-alone winter attraction.
Skiers of all skill levels can challenge themselves on any of our slopes!
The snowvolution ski slope has a wide array of options, including lifts and specialized accessories.
The Industrial Frigo Ice USA design team and engineers will guide you through the entire process.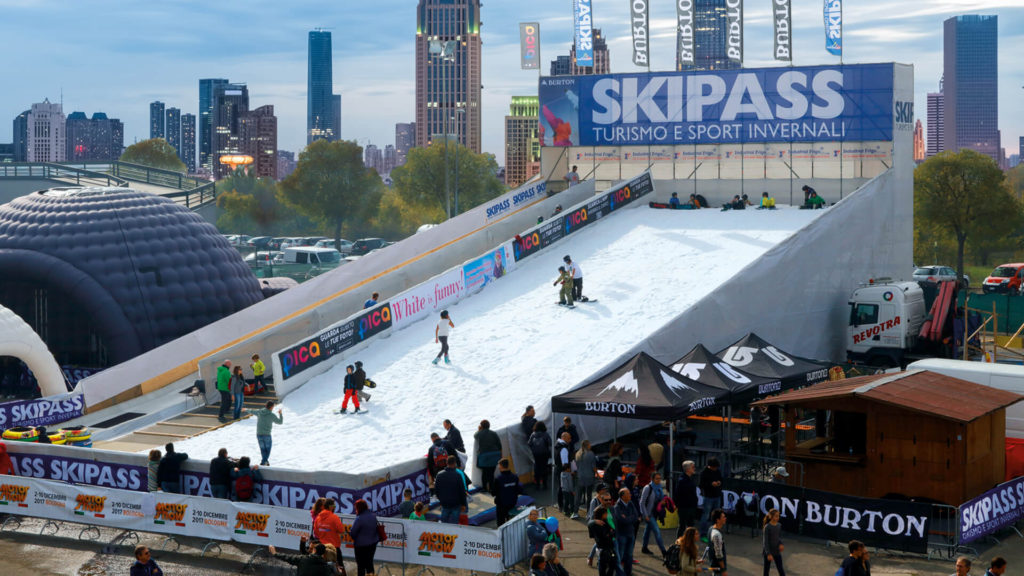 Snowvolution Indoor & Outdoor Modular flexible system